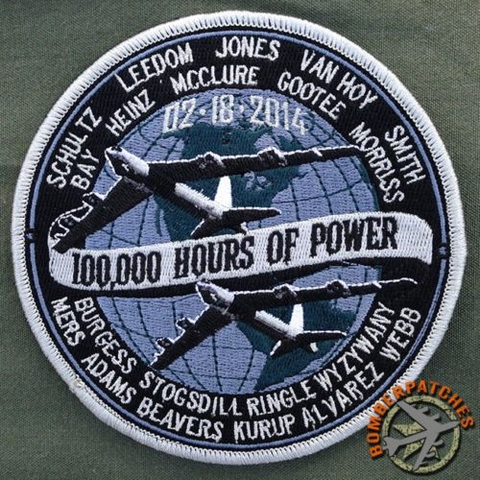 307th Bomb Wing, 93d and 343d BS B-52H World Record Setting Commemorative Patch
This patch was designed and produced to recognize the career and achievements of Col Joe Jones, 307th Vice Wing Commander and former 93d Bomb Squadron Commander, as well as commemorate the world record achievement of total flight hours between two aircraft in formation.  In this instance, two B-52Hs flew in formation, each with 10 crewmembers, and the total flight time and experience in the airframe exceeded 100,000 hours, averaging over 5000 hours of flight experience per crewmember.  
The 307th Bomb Wing Public Affairs story: http://www.307bw.afrc.af.mil/news/story.asp?id=123400947
The names that appear on this version of the patch are correct and reflect the accurate crew contingent on the day of the flight.  I have a version that is .25" smaller, does not have the date of the flight at the top and has three different names listed - BUT, it was flown on the record setting sortie.  The original notion was to make the patch and have it in hand to be flown on the sortie - and that happened, but as life happens, three  guys had to fall out and be replaced.  So, though the other patch was flown, this one is accurate.  This patch is a limited edition piece and is only available through me. I am the designer and producer of this patch. 100% embroidered, 4.
5" diameter, merrowed border, Velcro sewn to back, corresponding soft attachment material included, same size as patch.  
**The noseart photo shows "The Red Gremlin II", which was the lead ship in this formation.  The 100,000 Hours nose art was added temporarily after the jet returned to Barksdale.  "The Red Gremlin II" patch is also available in a seperate listing, and has quite a story as well.