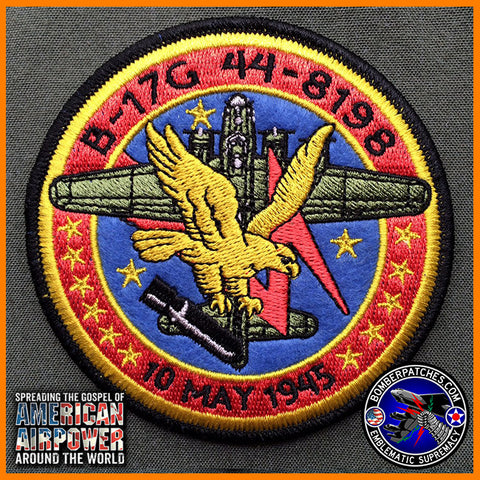 70th Anniv B-17 Memorial Patch
Eleven United States airmen were killed on the 10th of May 1945 over Braintree, England when their B-17 (44-8198) collided with a 2nd B-17 while flying a trolley flight to Germany from their base in Kimbolton, Cambridge (8th AF, 379th Bomb Group, 526th Bomb Squadron). The second B-17 was able to land without loss of life. This was just two days after VE Day.


This patch was designed and produced for the 70th Anniversary Memorial Dedication honoring the loss of these Airmen, who had survived WWII bombing missions, but tragically did not come home. This is a collaboration piece with my friend Jeff, who has been an ardent supporter of BomberPatches for a long time, and has become a great friend. This patch was present for the dedication and worn by the pilots flying Hurricanes for the Memorial Dedication and flyover in May of 2015. I don't need to sell this patch to collectors, but I also know there are a few that will be happy to add this patch to their collection. So, here it is. The blue background is executed in felt, a nod to the style of patches from the WWII era. 


 100% embroidered, 3.5" diameter, felt base, merrowed border, Velcro back, corresponding soft attachment material included, same size as patch. Outstanding quality.