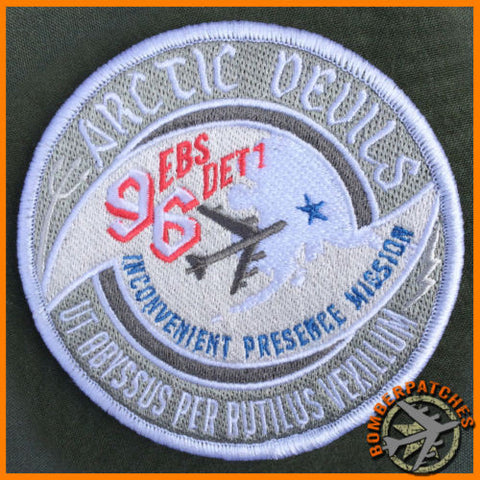 96th Expeditionary Bomb Squadron Arctic Devils Patch
This patch was designed and produced for a couple of crews with the 96th Expeditionary Bomb Squadron after their recent extended stay in Alaska, due to a typhoon evacuation from Guam. They arrived  at Eielson AFB, Alaska during the Red Flag Alaska exercise - though they were not planned participants. There's a great story that goes along with their unplanned presence there. "Inconvenient Presence Mission" comes from that story, and is the impetus behind this patch. If you buy one and want to know more, just let me know and I'll give you the details.
100% embroidered, 4.0" diameter, merrowed border, Velcro sewn to back, corresponding soft attachment material included, same size as patch.