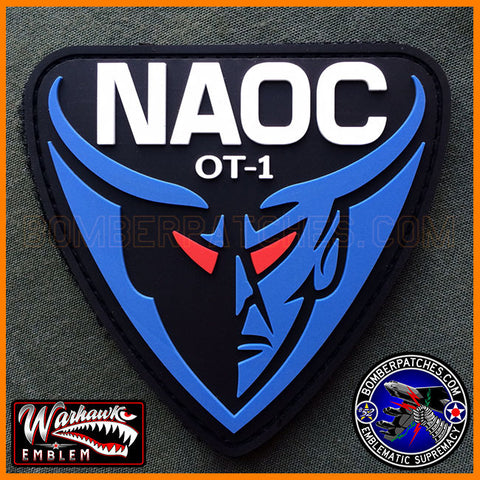 E-4B NIGHTWATCH NAOC PVC Patch, Ops Team 1, 55th Wing, Offutt AFB 747-200 USAF
I designed and produced this patch for TEAM 1 "Blue Demons" crewing the E-4B NAOC "Nightwatch" from Offutt AFB, NE. While similar to the embroidered patch I did for them previously, It's a bit more of a "Company" patch with NAOC featured in white PVC, OT-1 to represent Team 1. The PVC moulding is super precise and this patch is virtually indestructible.  I have been authorized to make it available to collectors on a limited basis, as is the case with most of my crew and organization oriented patches. 
 There are two other versions with different lettering treatments - one in Glow in the Dark and the other in silver metallic lettering, available in separate listings.  The patch is executed in PVC, 3.5" tall, 3.7" wide, Velcro back with corresponding soft loop included.