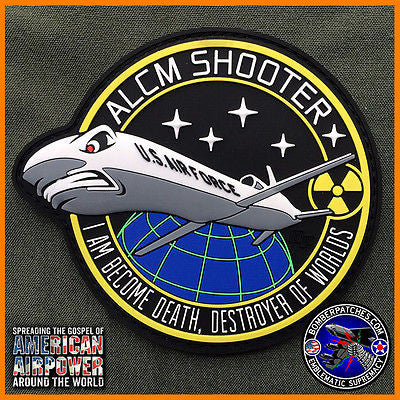 ORIGINAL AGM-86B ALCM SHOOTER PVC PATCH
This patch was made in collaboration with a friend in the 69th Bomb Squadron at Minot Air Force Base. The Air Launched Cruise Missile (AGM-86B) is the Air Force's primary nuclear air launched cruise missile, and the B-52 is the single platform that can employ it. The "I am become death" troubles some as the grammar does not appear to be correct - but it is. That is taken directly from a quote by Robert Oppenheimer in an interview where he recalled the invention of the atomic bomb, and is attributed the Hindu scripture of the Bhagavad Gita. In staying true to heritage, his words were used. 
I worked the deal so I could make this patch available to collector. Like all of my other patches, this is an original design and not available elsewhere. A glow in the dark version is also available in a separate listing. 
PVC rubber, 3 3/8" tall, 3 7/8" wide, Velcro back, corresponding loop included, same size as patch.