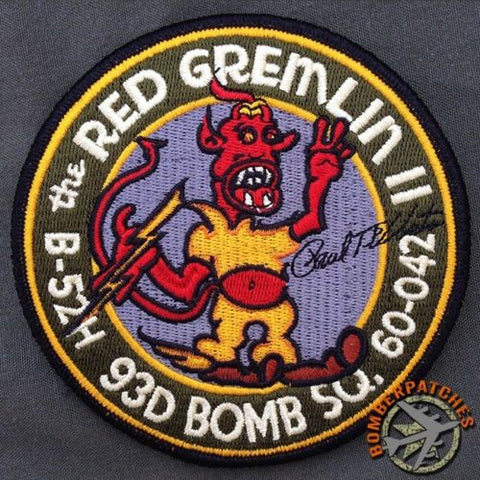 The Red Gremlin II, 93d Bomb Squadron Nose Art Series Patch
This patch is part of the continuing Nose Art Series specific to the B-52 Stratofortress, and this particular nose art is the where the project began.  "The Red Gremlin" was the art on the side of Paul Tibbets' B-17 as he and his crew were in the lead ship for the first daytime bombing mission over Occupied Europe in WWII.  Tracing bomber heritage back to WWII is something near and dear to many of us who are descendants of a rich Bomber Heritage. I was asked by Leadership to resurrect this particular nose art as it appeared 70 years ago with the intent of decorating a B-52. Eventually, we were able to make it happen. "The Red Gremlin II" is worn by Aircraft 60-042, flown by the 93d Bomb Squadron at Barksdale AFB. Brigadier General Paul Tibbets IV recently qualified in the B-52H and took his checkride in this aircraft, decorated with this nose art honoring his family's contribution to Bomber Heritage. The story can be seen at the link below - just cut and paste in your browser to have a look at it. This jet was also the lead aircraft in a formation of two B-52Hs whose crews flew a world record setting sortie with a combined crew flight hour total of over 100,000 hours, and the final flight of outgoing 307th Bomb Wing Commander Joe "Doc" Jones.
http://www.afgsc.af.mil/news/story.asp?id=123371711
This patch is a limited edition piece and is only available through me. I am the designer and producer of this patch, but do not take credit for the original historic Nose Art design. 100% embroidered, 4.25" diameter, merrowed border, Velcro sewn to back, corresponding soft attachment material included, same size as patch.