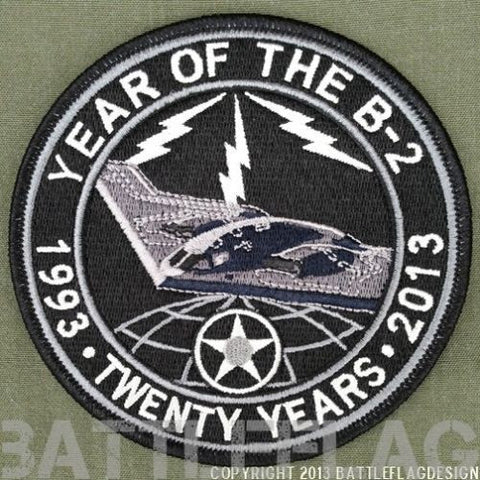 YEAR OF THE B-2 20TH ANNV PATCH UNOFFICIAL
This patch was designed and produced for Air Force Global Strike Command.  Their Public Affairs shop came to me and asked me to design a patch commemorating the 20th anniversary of the B-2 and asked that it be very similar to the Year of the B-52 patch I designed for them, and had produced, the prior year.  Once the design was completed, and made available for viewing, it was decided to go with a different design for the official emblem - one created by a person from within the B-2 community.  I applaud this and suggested it in the first place.  My design stands on it's own, and I produced the patch anyway.  

I am the designer and producer of this patch and it is not available elsewhere. 4.25" diameter, merrowed border, Velcro sewn to back, corresponding soft attachment material included, same size as patch.